BUNDLE KTM-HUSQVARNA // A-R BRACKET + 100mm BRAKE CALIPER
Regular price

Sale price

$702.00
WHAT THE KIT INCLUDES

1 brake caliper
1 sets of brake pads with carbon compound
1 plate for the brake pads opening
2 screws with washers for the caliper fixing
spacers for discs Ø 300, 310 and 320mm included
small parts for the brake fluid hoses fixing
1 axial/radial bracket for KTM/Husqvarna 250-300-350-450 MY 2012>
SPECS

monobloc triple bridge design
radial mount
small size and low weight
full ERGAL 7075 T6
hard anodising
WARNING

the mono discs brake system must be used together with these parts (sold separately):
- master cylinder 16x16mm
- brake discs Ø300, 310 or 320mm

with COBRA 100mm caliper and rims with aligned holes for spokes (like Alpina, Excel, Faba) it's possible to fit the brake system with OEM triple clamps

with other calipers or rims this is not guaranteed and to avoid the contact between brake caliper and wheel spokes you must use triple clamps 200mm wide and a spacer between the brake disc and the wheel hub (parts not included in the kit)
Hurry, only 1 item left in stock!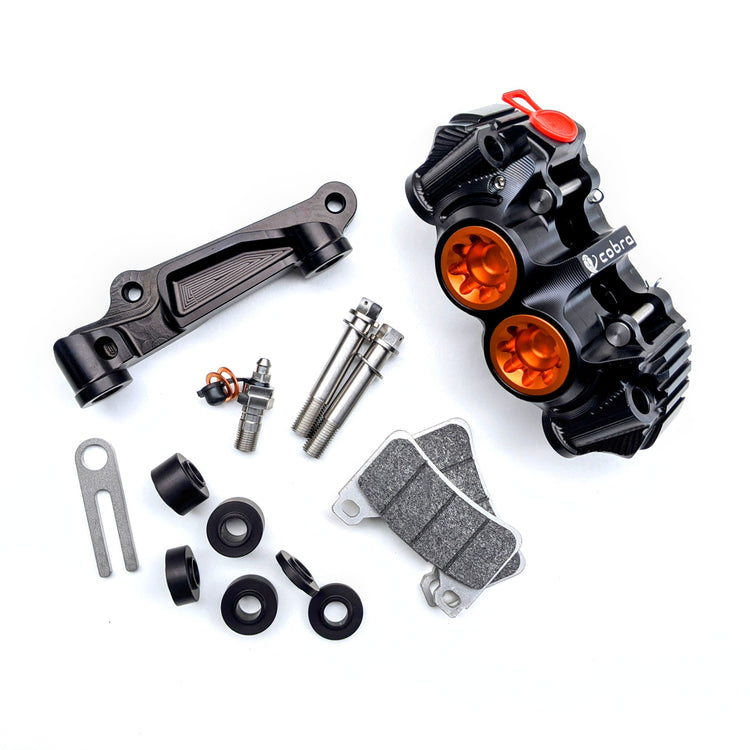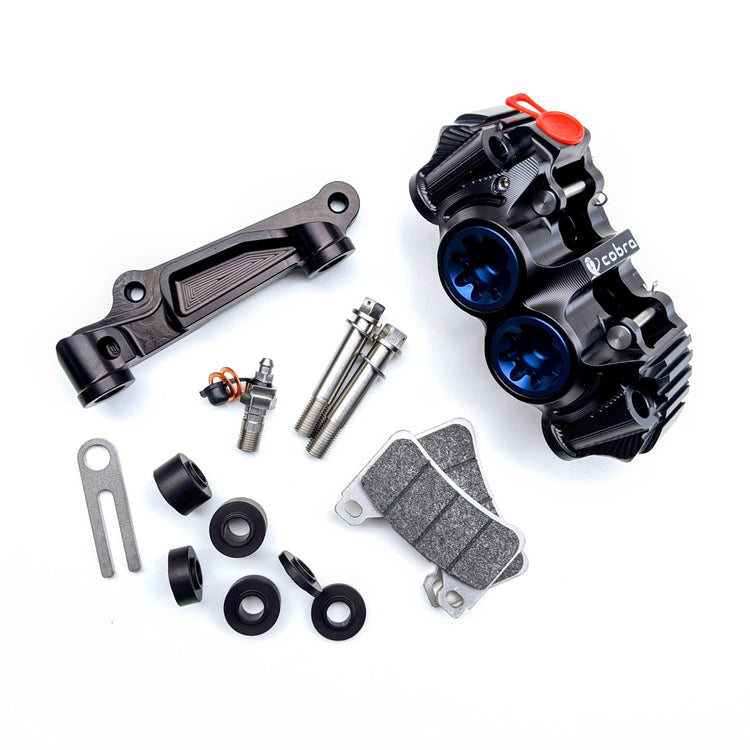 WARNING: the mono discs brake system must be used together with these parts (sold separately):
- master cylinder 16x16mm
- brake discs Ø300, 310 or 320mm

DESCRIPTION
The COBRA SINGLE DISC BRAKE SYSTEM enjoys of all our experience enhanced by the development of the Twin Discs Brake System.
Same technical features, same attention to details.
It represent the entry level product of our brake system collection, as well with top performance.
The MONOBLOC TRIPLE BRIDGE design, the RADIAL mount and the features of the solid ERGAL 7075 T6 aluminum ensure together high stiffness to the whole brake system, low weight and the best performances consistency from the first to the last lap of the race.
The great attention to the CNC machining tools paths is intended to enhance the shapes and their sculpt nature and the hard anodizing finishing safeguards the calipers from the untimely wear caused by the dirt sections of the tracks.
The kit includes:
1 brake caliper
1 sets of brake pads with carbon compound
3 set of spacer to adjust the caliper position with the disc diameter
2 screw + washers to fix the caliper on the bracket
small parts for the brake fluid hose fixing
1 plate for the brake pads opening
1 axial/radial bracket for KTM/Husqvarna 250-300-350-450 MY 2012>
Guarantees
EXCELLENCE
Very high quality and utmost care in design and manifacturing, with less bulk and greater versatility.
PERFORMANCE
Unique and innovative
high-end products designed, tested, and developed with the best world pilots.
ASSISTANCE
On track technical support at the main race events for the service of the entire product line, with the aim of the maximum race performance.